About the UWC National Committee of Canada
The UWC National Committee of Canada (NCC) is a volunteer-based organization responsible for the recruitment and selection of Canadian students wanting to attend UWC, including, but not limited to, Pearson College in British Columbia. The NCC provides support and guidance to the Regional Chapters in Canada's provinces and territories who conduct selection across the country and serve as a hub to provide support to UWC students and their families while attending UWC. The NCC is a developing network for UWC alumni from and in Canada.
Canada first established a UWC national committee in the late 1960's to send students to the first UWC, Atlantic College in Wales. Members of that National Committee went on the help found the second UWC College in the movement - Lester B. Pearson College of the Pacific, in 1974. From 1974 to 2016, Pearson College served as the National Committee of Canada. In 2016, the UWC National Committee of Canada was re-established as a not-for-profit entity and is currently seeking charitable status in Canada.
Our Purpose:
The UWC National Committee of Canada exists to seek out, engage, and support the people who make up the UWC community in and from Canada. We articulate and make relevant the UWC mission and values in the Canadian context.
Our Principles:
Equity and Inclusion: The NCC strives for equity of opportunity and active inclusion of diverse individuals and communities in its work.
Transparency and Communication: The NCC is committed to transparent conduct in its activities. To this end, the NCC strives for clear communication (internal, with volunteers, applicants, families, UWC colleges, etc.) as appropriate.
Value Relationships and Engagement: The NCC aspires to thoughtful and sustainable engagement with its stakeholders (e.g., volunteers, parents, regional chapters, alumni, etc.). The NCC seeks to be a good partner with Pearson UWC and other UWC colleges.
Organizational Reflection: The NCC will draw on its past and change when warranted through institutional reflection at regular intervals.
Financially Sustainable: The NCC endeavours to be sustainable with its resources, financial and otherwise.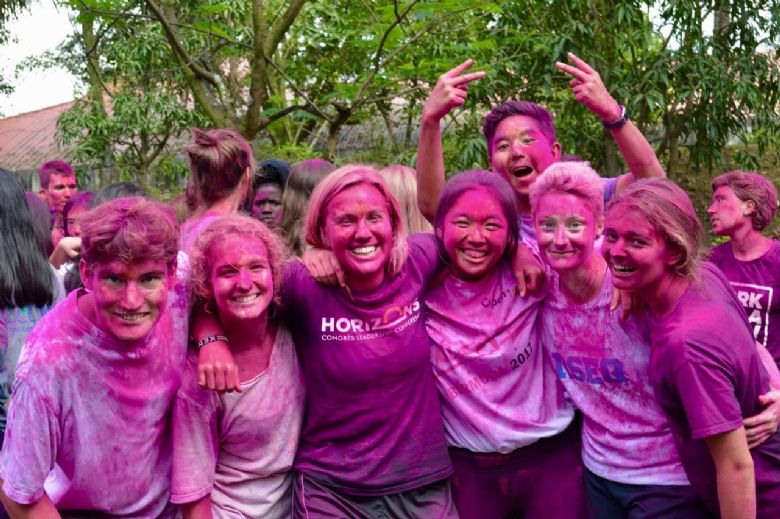 Students at Mahindra UWC India enjoy Ganesha Festival